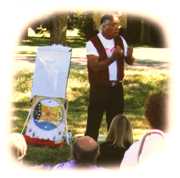 Throughout his life Rainbow Eagle has been a teacher. He comes from a family of teachers, his mother was a gradeschool teacher, and his father (one of the first "full blood" Choctaw indians to graduate from college) was a music teacher. He teaches the traditional way, one-on-one through ceremony, storytelling and song. And he also teaches the "modern" way, with a Master's Degree in Education and many years working in the public school system. Rainbow Eagle is also a licensed Mental Health Therapist and has worked to stabilize at-risk children and youth of all races to remain with their families.

As a Guest Speaker for numerous colleges and universities he has opened students minds and ears to a new sensitivity, a Native American spirituality that for years has been driven underground, hidden from public view. These teachings are now beginning to surface. The traditional Elders of many Native American tribes are saying the time has come to offer these teachings once more.

One of these teachings that has emerged from "underground" has been the Peace Shield, an old Anishinabe (Ojibwa) drawing that speaks to a way of life for not only the Native American Community but all peoples. In the words of Rainbow Eagle:

"The Peace Shield is a reminder to Native people that in the Seventh Fire it would be their responsibility to assist and help bring the Human Family back together again. These original truths of the Peace Shield are to be given to the Human Race for the last time so that each person can have what they need to decide the future of our Mother Earth. The Peace Shield teaches the value, beauty, wisdom and wonder of walking into the future with great faith and absolutely no fear. In the past the Peace Shield provided community and personal stability, it now charters for human kind a journey into the blessed future."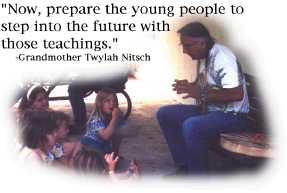 Native American Storytelling & Songs
Wisdom Stories for Children
Breaking Stereotype Images of Native Americans
Environmental Lessons
Cultural Education (age appropriate)
Some Presentation Topics:
Understanding Native American Ritual and Ceremony
Native American Principals of Healing
Native American Wisdom and its Realationship to Universal Law
Native American Prophecy: The Future is Revealed by the Past
The Five Comet Prophecy
Native Wisdom: How We Are to Go From Here to the Year 2012
Understanding and Having a respectful look at Native American Spirituality and Christianity
Sacred Native American Teachings and Female Empowerment
Workshops Offered:
Level One: Native American Spirituality and Understanding the Teachings of the Peace Shield
Level Two: Peace Shield Intensive Course to Personalize the Teachings
Level Three: Applying the Ancient Instructions to Serve the Community
Level Four: Utilizing Rituals and Ceremony to Increase Peace and Healing Upon Mother Earth
Star Wisdom regarding Extraterrestrial/UFO phenomenon
Ancient/Native Wisdom: An Important Foundation for Star Knowledge
That Which is Happening Now Has Happened Before
"Let Them (Earthwalkers) Know That We Exist"
"Mother Earth Speaks" of Her Lessons for Earthwalkers
Star Wisdom Level One: Understanding ET Energy Forms-- A Native Perspective
Star Wisdom Level Two: Hidden Mysteries Within Native Culture
Star Wisdom Level Three: Personal/Group Spiritual Preparation for Galactic Relationships
If you are interested in arranging for a lecture, workshop, class, or any other engagement with Rainbow Eagle, take a look at his Current Schedule to find out when he will be in your area and contact him with your requests.